The Metonic portfolio spans across nearly the entire central US, and has seen massive success here in the areas of acquisition, renovation, dispositions and developments. Investor dollars are spent strategically in markets that are often overlooked and, therefore, undervalued.
Recently, the Metonic and Apogee teams have chosen to expand this footprint outside of the usual territory and take on a new and exciting opportunity in Palm Desert, California.
In 2013, Ted Seldin, the late founder of Seldin Company, acquired over 100 acres of land in the Palm Desert market. Since this acquisition, the Seldin family and their partners established a master plan for the site, developed 161 single-family homes, and partnered with local developers to introduce hospitality and improve commercial lots for the area. Ultimately, his goal was to complete the multifamily component; now, his grandson, Yonatan Dotan, in partnership with Metonic and Apogee, are spearheading this piece of Ted's legacy.
Introducing: The Millennium Apartments.
This 330-apartment home luxury community will be a high-end, modern property that helps to backfill the increasing demand for housing in and around the Coachella Valley submarket. The property will consist of studios, one-bedroom and two-bedroom homes with spacious and dynamic layouts. There will be a small 20% affordable component as well.
"There has been a notable lack of product over the last 10 years, with the vacancy rate less than 2%, so we feel that this is a very timely project – not only for the community, but also for Metonic and Apogee. We're excited to take on multifamily developments outside of the central US" said Kassie Inness, President of Apogee.
As of late, the Palm Desert market has received a number of exciting announcements. This includes plans for a Disney inspired community ("Cotino") in Palm Springs, along with the approval of a development permit for a 3MM square-foot e-commerce warehouse and distribution center. This will be one of the largest warehouses in the United States, bringing thousands of jobs, and potential residents, to the market. Additionally, the Acrisure Arena Sports Complex is being built on 43 acres just north of Palm Desert. This 10k seat arena, set to open in Fall of 2022, will be the future home of the Coachella Valley Firebirds hockey team, and host more than 80 games, 40 concerts and 150 other events annually. These developments promise to be big draws for the desert, which are very beneficial for the Millennium Apartments project.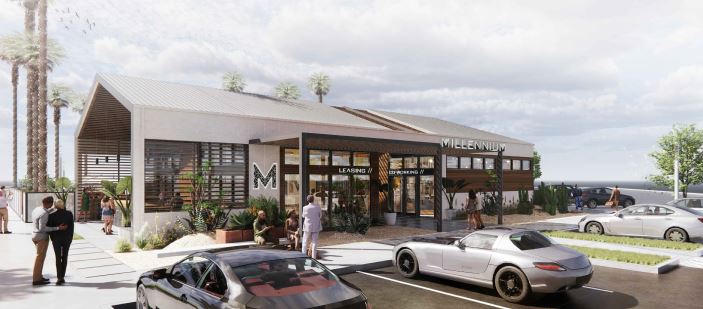 In designing this community and these homes, the teams focused heavily on smart home technology, high end finishes, electric vehicle charging stations, and a robust amenity set. This includes a sparkling pool, activity lawns, pet yard, co-working spaces, an indoor/outdoor fitness facility, etc. The property will also feature solar sustainability throughout, and feature design that harkens back to the desert landscape and modern architecture that speak to the fabric of the Palm Desert environment.
The teams at Metonic and Apogee are passionate about the concept and implementation of equitable housing, and the combination of market and affordable residences in this modern community is an exciting opportunity in the Palm Desert Market. The average home size throughout the property is 913 sq. ft., with average rents (for both market and affordable) at $2.70/sq. ft. or $2,466 monthly.
The expected resident base consists of professional workforce housing for area natives and those who have left the coasts and moved inland toward the deserts. With working from home being more prevalent than ever, it is expected that many of the prospective residents will also be utilizing their homes as offices as well. As with any property in sunny Palm Desert, snow-bird type renters are expected as well.
The Metonic and Apogee teams are on schedule to break ground on this exciting development in October of 2022, with the overall project expected to be completed and stabilized by February of 2025. Metonic and Apogee are pleased to be able to expand the Metonic portfolio into a new market, and bring value to potential residents and investors alike.
Stay tuned for further updates as this modern apartment community takes shape.